In 2008 and 2013, E Source conducted a survey of residential customers in the US and Canada to help understand their experiences with, preferences for, and expectations of communicating and interacting with electric and gas utilities via various channels. Utilities can use E Source's analysis of the survey data to help align their communications and offerings for a variety of channels with the needs and expectations of their customers. The survey also looked into residential customers' satisfaction with and perceptions of their utilities and the customer service they provide.
---
Methodology
The survey includes approximately 1,000 residential utility customers in all US Census regions and in Canada. The 2008 study was conducted by telephone and the 2013 and 2016 studies were conducted online. The study was designed by E Source and the data were collected by a third-party vendor and analyzed by E Source. A post-survey weighting scheme was applied in 2008 and 2013, and in 2016 we utilized hard census quotas in order to reflect each region's (US Census and Canada) share of households in the total survey area. Soft quotas were applied for gender, age, and income.
Study Results
If you're a subscriber, these links will take you to the study deliverables. If you're not currently a subscriber, you may contact us for information on membership to pertinent E Source services.
Example of Residential Utility Customer Survey Findings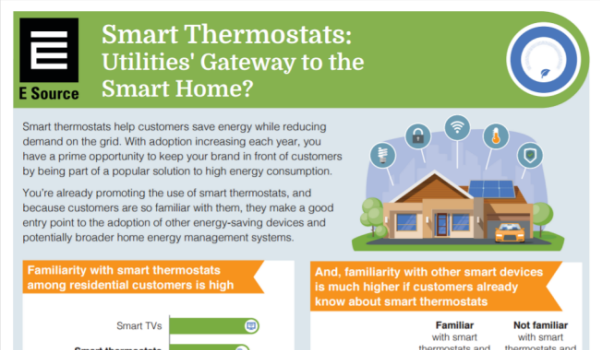 Smart Thermostats: Utilities' Gateway to the Smart Home?