Plug Loads: The Phantom Menace
December 6, 2012, 1:00 pm

MST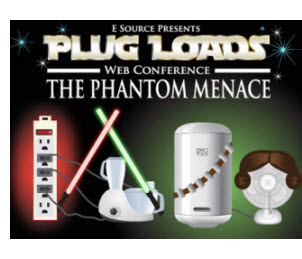 Unlike end uses such as lighting and HVAC where efficiency is increasing, the long-term trend for plug loads isn't very promising. We are seeing a proliferation in personal and office electronics. And with so many devices plugged in everywhere, addressing the situation is becoming increasingly important. However, meeting the challenges inherent in the sheer volume of plug loads is difficult. Join us for this discussion on many of the problems and potential solutions in a 90-minute, interactive roundtable discussion with industry experts.
Speakers:
Essie Snell, Senior Research Associate, E Source
Michael Shepard, CEO, E Source
Ty Stober, Initiative Lead, Televisions, Residential Sector, Northwest Energy Efficiency Alliance
Derek Okada, Strategic Planning Project Manager, Southern California Edison
Noah Horowitz, Senior Scientist and Director, Center for Energy Efficiency Standards, Natural Resources Defense Council
Gregg Hardy, Vice President, Policy & Research, Ecova
Kari Montrichard, Program Manager, Residential Marketing, BC Hydro
You will learn:
Some of the unexpected and surprisingly large phantom draws
Creative approaches to curbing consumption
Innovative utility programs
Standards and proposed standards to curb plug load energy consumption
Who should attend:
Anyone who's interested in the rapidly evolving field of home and office electronics.
For more information about attending this event, please contact Customer Service or call 1-800-ESOURCE.