A common misapprehension about a customer experience (CX) strategy is that companies need to shift 100 percent of their focus to creating an effortless, seamless experience for customers. Well, in many ways that's true. However, utilities can go head over heels designing and optimizing an exceptional CX, but without skilled, empathetic, and productive employees, there won't be anyone to actually deliver that experience. Therefore, an equally important part of a CX strategy is an employee engagement strategy. In fact, employee engagement is so important, it's one of three pillars in the E Source CX Framework.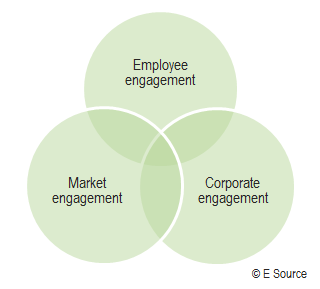 Employees are ultimately responsible for delivering a memorable CX, so improving the employee experience is beneficial for customers—as well as utilities' bottom lines. Research has proved that companies that successfully engage employees will have a foundational resource for continually providing an excellent CX, ultimately fueling revenue growth and profitability. The service-profit chain clearly indicates this correlation.

In January 2015, E Source led a discussion on employee experience with representatives from Avista Utilities, NorthWestern Energy, and Alliant Energy to learn what's worked in utility employee engagement initiatives. Each utility took a distinct approach, but all were successful in connecting with employees, boosting morale, and improving CX.
Bruce Folsom, Avista's director of products and services, shared how the utility empowered an employee-led team to improve customer interactions while working in the field. The team developed a program called "Feel Free to Fix it" that allowed field crews to spend up to $500 to fix something that was involved in a service call. For example, crews could choose to buy a bag of beauty bark to spread around soil that was disrupted during utility work. The program enabled field crews to go the extra mile for customers, and it simultaneously improved utility operations by reducing customer complaints.
This is a great example of how a utility can give staff the resources to make customers happy, while at the same time allowing employees to take charge of improving the overall CX. Plus, it just makes sense.
During our Leaders Group Call, we heard an abundance of sensible, simple ways for utilities to improve both the employee experience and the customer experience. To capture those ideas, we recently published Connecting Customer and Employee Experiences: Highlights from the January 2015 Leaders Group Call. The report describes Avista's, NorthWestern's, and Alliant's employee engagement successes, and it suggests a six-step approach to getting employees onboard for delivering an outstanding CX.
So have no fear. Including employees in the CX strategy doesn't mean your utility is any less focused on customers—or the bottom line.