E Source helps you gain efficiencies throughout the entire DSM program and portfolio life cycle—from planning and design, all the way through evaluation. You'll get access to analysis, tools, and advisory services that can help you more effectively plan and execute your programs and benchmark your results to those of other utilities. We'll also share our knowledge of the best technologies to include in your programs. Our guidance saves you time and resources, making energy and demand savings more achievable and less expensive.
Explore Our DSM Solutions
The Demand-Side Management Service gives your entire organization access to a robust toolbox:
Research Library
With the latest independent, unbiased, and well-documented research, you'll be able to stay current on what's happening with DSM portfolios and programs across North America. We deliver actionable profiles of innovative and experimental programs, keep you up-to-date on the issues driving today's DSM market, and help you implement cost-effective portfolios.
DSMDat
Our exclusive database of more than 5,000 DSM programs in the US and Canada provides the most user-friendly, comprehensive reporting available today on energy-efficiency, load management, demand-response, and customer-sited renewable generation offerings from electric and gas utilities, government agencies, and nonprofit organizations.
Ask E Source
Membership gives you direct access to our industry experts for unlimited questions in the areas of program design, implementation, and evaluation for efficiency, demand-response, and renewable energy programs.
Inclusion in Benchmarking Studies
Our benchmark studies on direct load control programs, small business direct-install programs, and DSM achievements and expenditures will help you compare the performance of your DSM portfolios against that of your utility peers.
Web Conferences and Leaders Group Calls
Online meetings give you a unique opportunity to collaborate and interact with industry experts and your peers who are also being challenged to meet rapidly growing goals for energy efficiency.
Annual E Source Forum
In this exclusive annual conference for E Source members, we offer a special DSM topical track as well as tracks in Customer Service, End-Use Technologies, and Marketing. Past session topics have included "deep-dive" programs, successful partnerships with vendors and contractors, and optimizing your demand-response portfolio.
Sample Our Unparalleled Content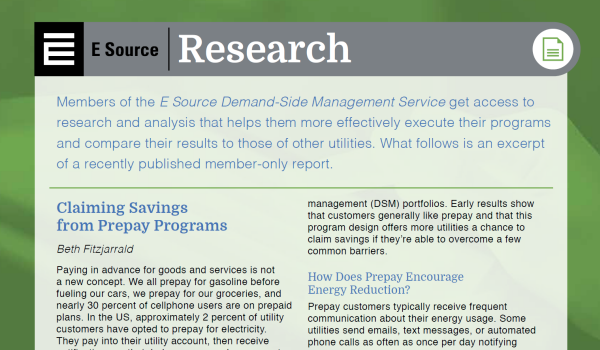 Claiming Savings from Prepay Programs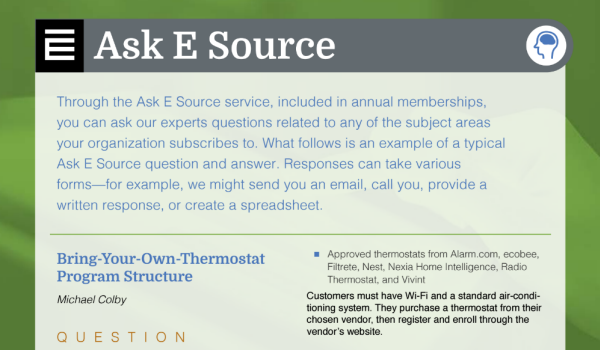 Bring-Your-Own-Thermostat Program Structure
E Source Consulting Solutions offer a more hands-on approach to your specific issues with DSM portfolio development and planning. Our consulting team has walked in your shoes and can help solve your toughest problems.
We engaged the E Source DSM Consulting team to assist us in creating an energy-efficiency transition plan to set up our efficiency programs for future funding in the changing landscape of New York. E Source provided research and program design expertise, and the team's diverse knowledge and experience was essential in facilitating the collaboration of program teams in planning and designing our proposed energy-efficiency program improvements. The E Source DSM Consulting team was a valuable partner in the development and filing of our transition plan.
Optimizing program delivery is a complex task. E Source has more than 25 years of experience helping utilities create strong programs, implement them, and measure their success. We also understand complexities like regulatory trends and trade ally networks.
DSM and Carbon Potential Study With our lower-cost alternative to a traditional DSM market potential study, you'll get the data and insights you need for Clean Power Plan compliance planning as well as a solid foundation for maximum reach and DSM program cost-effectiveness.
DSM Portfolio Optimization We'll help ensure that your DSM portfolio is best positioned for your customer, market, and regulatory needs.
Journey Mapping for Demand-Side Management Programs We'll help you apply journey mapping to your DSM programs and initiatives, where thousands of customer interactions occur each month.
Energy-Efficiency Predictor Using the E Source Energy-Efficiency Predictor model, we'll help you select the business customers that are most likely to participate in your programs, and then design and market the energy-efficiency products and services that are most appropriate for them.
Trade Ally Program Assessment We'll leverage our knowledge of trade allies to tailor a solution for your utility that maximizes trade ally performance for your DSM programs.
Sample Our Unparalleled Content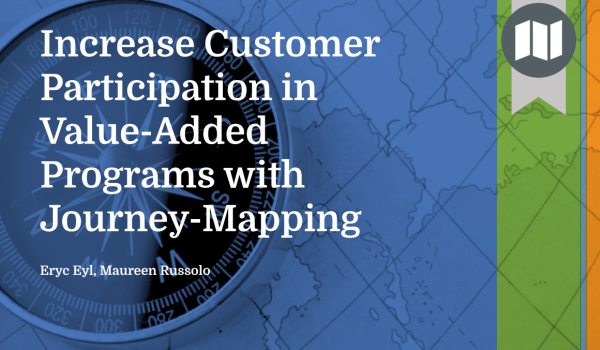 Increase Customer Participation in Value-Added Programs with Journey-Mapping
E Source tools put the power in your hands, giving you access to data on program performance and measure assumptions.
Included with DSM Membership
DSM Benchmarks and Surveys
Our goal is to provide you with the information you need to make smart decisions. At E Source, we cut through the complexity and deliver the on-point insights you need to make the right investments.
With our market data, you'll be able to learn more about your business and residential customers. This intelligence will help you accomplish your goals while avoiding mistakes.
Included with DSM Membership
Multi-Client Studies