If the past year is any indicator, smart thermostats are a trending technology among utilities. That's because more utilities are recognizing that today's customer wants solutions that give them greater control over their energy usage and expenditures without affecting their comfort. Smart thermostats learn a customer's heating and cooling habits and schedule, and can adapt to ensure that their house is comfortable when they're home but not wasting energy when they're away.
In December 2015, we updated our Smart Thermostat Pilots and Programs: A Catalog of Current and Recent Utility Initiatives report with reviews of around 30 active smart thermostat programs. Available to E Source Demand-Side Management and Technology Assessment Service members, the report contains more than 100 programs, many developed in just the past year. The map below shows where in the US and Canada utilities are offering incentives for smart thermostats, empowering millions of customers with additional control over their energy use.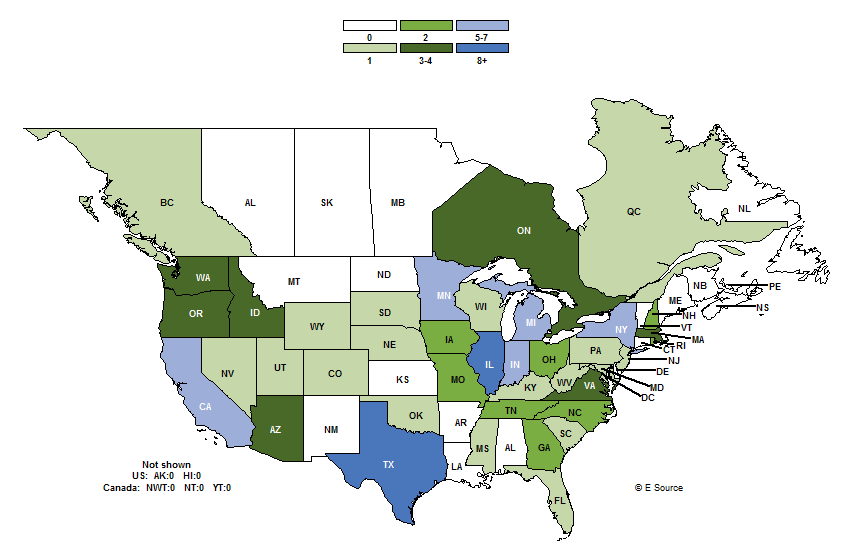 Conducted in partnership with E Source, the 2016 Nielsen Energy Behavior Track study surveyed 32,000 US and Canadian residential utility customers. Members of the Residential Marketing Service can use the E Source Residential Customer Insights Center to view the collected data, which shows that smart thermostat adoption doubled across the US from 3 percent in 2014 to 6 percent in 2016. In July 2016, we conducted our Residential Utility Customer Survey of a representative sample of 1,029 residential utility customers in the US and Canada to get insights into in-home technologies, including smart thermostats.
Utilities offer discounts and incentives to smart thermostat customers who adjust the temp in the winter or summer. Tweet this!
For the last few years, utilities have been creating programs that offer discounts or other incentives for smart thermostats. Anyone who changes their thermostat setting, whether it's for heating in the winter or cooling in the summer, can take advantage of these programs. In fact, customers can save additional money by participating in a summer demand-response program that eases pressure on the electric grid. Through this program, utilities can change a customer's Wi-Fi-connected smart thermostat settings to an agreed-upon temperature during "peak" energy times. That means fewer brownouts and blackouts on those extra-hot days when everyone wants to keep their homes at freezer temperature. And in return, customers receive a credit on their energy bill.
As a utility offering a smart thermostat program, you address your customers' most basic wants: to save money and be comfortable in their home. Whether they hope to save money while staying warm in the winter or get cash back through a demand-response program in the summer, you can show your customers that their satisfaction is important to you. Check out our Smart Thermostat Pilots and Programs: A Catalog of Current and Recent Utility Initiatives report to view the full list of smart thermostat programs offered across the US and Canada.