I love the word "experience." If you look at the etymology, you'll see that it comes from the Latin experientia, meaning "knowledge gained by repeated trials." I remember a language professor I had at university who told us that experiences were really journeys through peril.
Veni, vedi, screami, repeati.
If you think about customer experience (CX) from this perspective, it means we're repeatedly forcing our customers through perilous situations in order to engage with us. What a terrible way to treat customers! Do your customers have to pick up sword and shield in order to navigate your organization and resolve their issues? Do they encounter different beasts if they interact with you via e-mail, phone, or social media? If so, it may be time to create a toothless monster for your customers to befriend by thinking about your CX strategy from an omnichannel perspective.
An omnichannel perspective can help your company identify ways to make the experience between communication channels virtually edgeless. A customer who begins an interaction via social media should be able to continue the same conversation with a call center rep without being ensnared in new traps or confronted by new dangers.
But the journey to an omnichannel experience isn't devoid of unknowns. Every few years, we face some new and strange channel that must be integrated into our business operations. In the recent E Source report Unlocking the Omnichannel Experience: Keys to Success, we identify the spoils that a utility could earn from victoriously taming these unknown beasts, and we provide armaments to design and implement an omnichannel experience.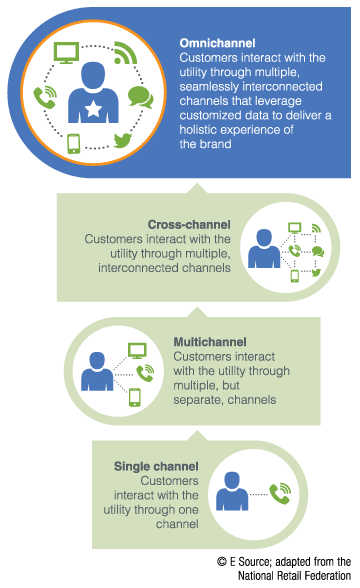 As CX wizards, you have the fortitude and courage to continue to delve into the omnichannel depths and attend the 2015 E Source Forum. Besides learning from your utility counterparts about evolving best practices and tricks for your book of spells, if you desire, you can have the good fortune of attending a session from our CX track called "Knights of the Roundtable: Quest for Omnichannel." Here, channel stakeholders and experience owners can come together, pick up arms, and work to craft an integrated omnichannel experience. And later this year, be on the lookout for our omnichannel survey, where we'll ask participating members' residential customers which channels they're using to repeatedly walk through fire to engage with their energy provider. Send us an e-mail for more information.
Now go forth:
Veni, vedi, omnis, alacris.