Interest in home automation—of which home energy management (HEM) is a subset focused on energy use—is nothing new. Science fiction writers started describing this kind of functionality in the 1920s (shortly after the advent of electric appliances), and futuristic demonstrations of how automated electrified homes might make life easier for residents were included in multiple World's Fairs starting in the 1930s. However, a variety of factors—including technological limitations, high first costs, lack of a standardized communication protocol, and dubious benefits for users—all conspired to keep home automation from achieving widespread market penetration in the decades to follow.
Fast-forward to the early 2000s. Utilities started to take note of smart meters and the concept of smart grid, and it didn't take long for interested parties to consider the huge potential for energy savings and demand reductions if data from smart meters could be used to better control devices in the home. With the backing of utilities and the financial support of numerous investors, several organizations sprung up to try to bring the promised benefits of smart grid–enabled HEM to the masses, and forward-looking utilities like Xcel Energy started to proceed with multifaceted smart grid pilots such as SmartGridCity. But there was a problem. As utilities got more and more excited about the prospects of HEM in relation to smart grid, the underlying technologies remained fairly expensive to implement and many customers didn't seem to see a benefit. Ultimately, despite the creation of myriad HEM smart devices that promised numerous energy benefits to utilities and end users, market penetration remained low.
Now, after nearly a century of interest, HEM finally seems poised to hit the mainstream. Thanks to developments like the quickly shrinking cost of entry, ever-increasing technological capabilities, increasing Wi-Fi coverage, the evolution of the "Internet of Things" (generally referring to physical devices that can share information over a network), and the widespread proliferation of mobile devices like smartphones and tablet computers, implementation of smart devices (and ultimately smart homes) is easier and more affordable than ever. More than that, customers actually seem to be excited about installing and using some of these new devices—something that didn't always happen when HEM devices remained veiled under the auspices of smart grid. For example, the Nest thermostat, which burst onto the scene in 2011 with a unique and compelling design, is now selling an estimated 100,000 units per month. And these kinds of sales are driving analysts to predict rapid growth in the overall HEM market as well—from a value of $1.5 billion in 2013 to over $4 billion by 2017.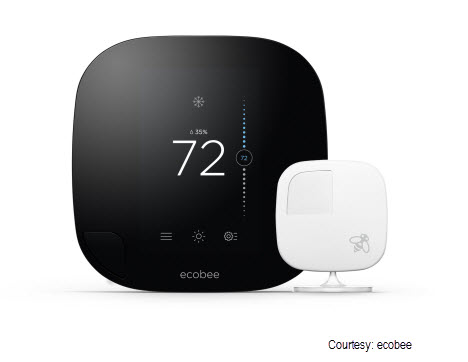 With end-use customers now directly helping to drive development and adoption of HEM technology, utilities may soon be in a position to finally take advantage of the synergies between HEM and smart grid to dynamically shift load as needed and potentially achieve substantial energy savings—assuming they get involved in this space soon.
For more information on this rapidly changing field, E Source members can read our brand new report Home Energy Management Is Coming: Are You Ready? In it, we discuss the current state of the market, what devices are currently available and how they may interact with each other within HEM ecosystems, ongoing trends to pay attention to, and suggestions for utilities interested in incorporating HEM into their program portfolios.