Electric Vehicles Can Energize Local Economies
By Justin Lowell Bellew - Guest Blogger
Published: April 24, 2012
|
Blog Post
"I've recently been working with Justin on feasibility assessments for emerging energy-efficient technologies. We met while working with Project Get Ready, the electric vehicle initiative at Rocky Mountain Institute." —Bryan Jungers, E Source Research Manager
Can utilities profitably position themselves as the next economic engine within their communities? The short answer is, "Yes." We're still in the early innings of the electric vehicle (EV) ballgame, but I have reason to believe EVs will be net job creators, helping to arrest the flow of assets out of communities.
Last year, I interned with the Rocky Mountain Institute's (RMI's) EV initiative, Project Get Ready, and had the opportunity to survey the project's members about how EVs are affecting jobs in their regions. My findings revealed that the majority of people doing a broad spectrum of functions in the EV space view the technology as having positive impacts on local economies.
Current EV messaging doesn't promote these positive impacts. Utilities should be creating campaigns to inform and educate customers. Utilities stand to gain considerably from the revenues created by EV charging, but a strong messaging campaign will be needed in order to combat pundit rhetoric. My work at RMI suggests that utilities and communities can benefit from vehicle electrification efforts on multiple levels, such as:
Local job creation, including electrical technicians and utility staff
Local spending multipler effects, quantifiable through inexpensive data analysis
Direct profits from the sale of electricity to power personal vehicles
For utilities, the gas-to-electric transition can be profitable, even when utilities own the charging infrastructure, as demonstrated in a Silver Spring Networks report (PDF; see p. 12). There are also strong messages that should be adopted in marketing the concept of electricity as a transportation fuel. Price stability is a big one: "Are you tired of rollercoaster gas prices?"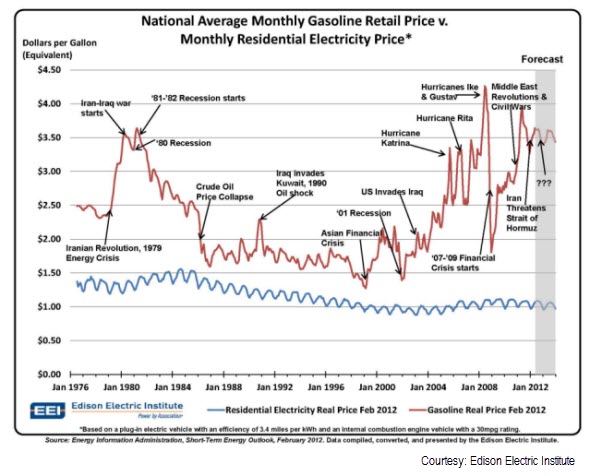 Another important message is that EVs will cost less to operate. Gas-powered cars cost about $0.10 per mile to operate when gas is $3.00 per gallon, versus about $0.025 per mile for an EV. If gas prices go up to $4.00 or $5.00 per gallon, this difference is magnified, making an even stronger economic case for vehicle electrification.
How much do utilities and their communities stand to gain from EV adoption? Well, a transition from oil to electricity to power U.S. personal transportation offers domestic utilities a significant share of the $224 billion that Americans spend on gasoline each year. Right now, a significant percentage of that money is spent on foreign oil—a large outflow from the U.S. economy. By contrast, spending on electricity would remain entirely within the United States.
The localization of energy spending would also help to keep more dollars circulating within local economies. To illustrate this point, let's consider the effects of retail "localization" in Arizona. A study conducted by Civic Economics (PDF) revealed multipliers between 11 and 33 percent associated with variously more local levels of procurement, which I think could translate well to the localization of energy.
I believe a strong communications outreach effort will help consumers better understand the value proposition of the transition to EVs. Done thoughtfully, it can also ease the adoption of time-of-use rates to smooth demand curves, which will help utilities further maximize benefits and minimize costs associated with EV adoption.
Topics:
Leave a Comment